Happy Wednesday! And welcome to the fourth installment of Story School. Last week's NARWHAL prompt inspired lots of great writing. I received several awesome poems, in lots of different styles--haiku, diamonte, cinquain, and free verse. We even had a story about an epic narwhal battle. As for my narwhal story, I polished it up and sent it to my agent, so we will see what she says.
In case you are new here and are wondering what Story School is, let me tell you:
Every Wednesday this summer, I'll post a story starter of sorts. It might be an idea or a prompt. It might be just a single word. Who knows! Story School started as a way for me to continue to connect with the students from my school (about writing) over the summer. But really, Story School is for everyone, young or old. Writing exercises often get my writing juices flowing so I thought it would be good to share some of the stuff that works for me!
So, we've talked about writing characters for the last two weeks, today lets talk about setting. I am going to be honest, if I am reading a book and I can't picture myself in the setting, it is really hard for me to pay attention and stick with the story. Setting isn't just the WHERE and the WHEN of a story, it's the sounds of a place, the smells of a place--the tiny details that come together and allow me to experience any story I am reading in the best possible way. When I am writing a story myself, I am always thinking about where a scene takes place, why it takes place there, and what I need to tell my audience about that place so that they can see it in their minds like I do.
One of my favorite story settings is Hogwarts. (I didn't write that setting, just so you know!) I love all of the personality that castle has. So, I thought that today's prompt would be CASTLE.
Here are a few to get your creative thoughts flowing:
This is quite a fancy castle. It looks rather happy. Of course, every place has its secrets, doesn't it?
This one looks like the hidden castle of the sea-elves. It only rises from the water at sunset...
A castle on a lake!! This looks like one where King Arthur would live, very Camelot-like.
RUINS! I love ruins!! Of course, it's kind of an awful word, being RUINED and, but you can just imagine what once was here--and what happened to ruin it.
Such a chubby little castle! This is a fairy tale castle for sure.
Saw this castle in person not too long ago. Amazingly, we discovered a terrible smell as we went through the towers. It was awful and there was no escape. Just goes to show, things are not always as pretty and pink as they seem.
HAUNTED CASLTE. Well, this looks adequately creepy, don't you think? (I think what makes it look so scary is the fact that the photo is black and white. Wise choice for a haunted castle.) So, do ghosts reside here? A were-wolf perhaps? or perhaps a creature so terrifying it has yet to be described...
Come inside my sand castle! This is where stories are born and dreams come true!
Choose any castle to write about--or you can find one of your own! Google is amazing for that. I chose the word CASTLE this week because I am writing a scene that happens in a place very much like this: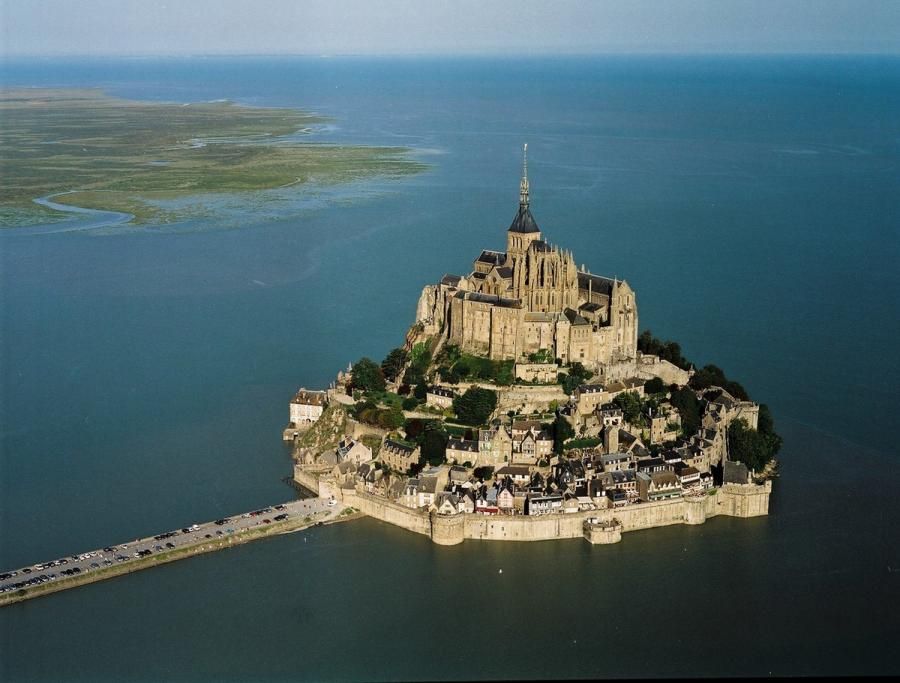 It is called Mont St. Michel and it is awesome.
So, your task is to use the word CASTLE in your writing. You might set a story in one of the castles I have shown you, or create a castle of your very own.. You might write a poem about a castle, or perhaps a song. You might choose to take a story you are working on and set a scene in a castle. Whatever you do, remember to have fun!
You can email me at storyqueen@gmail.com if you want to share your work!
See you next time!
xo
hrh
P.S. If you want to come and write with me in person, there are still a few seats open in my summer writing workshop offered through the Carlsbad Education Foundation. CEF offers so many cool summer opportunities for kids. My workshop runs from July 21-July 25, from 9 am to 12 pm at Jefferson Elementary School. You can click
here
for more information.